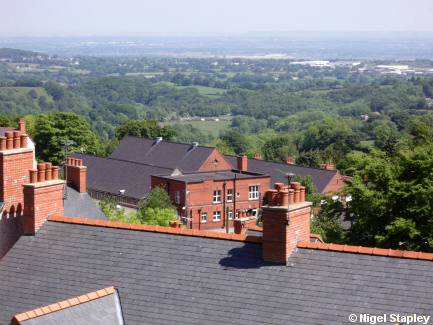 Grid reference: SJ293539
Co-ordinates: 329340, 353947
Bearing: NE
Brymbo Technical School (as it was originally called) was built in 1910 and formally opened the next year. When secondary education was revamped after the Butler Act of 1944, the school became a 'Secondary Modern'.
At the onset of comprehensive schooling in this area in the early 1970s, the 11-16 year-olds were bussed out to a school over two miles away. The old Junior School was then moved in stages up to the new building.
Above is the school as seen from above Bod Idris.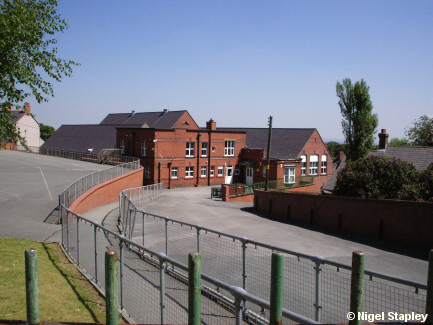 Grid reference: SJ294540
Co-ordinates: 329422, 354003
Bearing: NE
Above is the main entrance to the school, which previously served as the entrance for girls only. Up until about 1968, the village public library was located on the first floor at this end of the building. A new, purpose-built library on Offa Street replaced it.

Grid reference: SJ294540
Co-ordinates: 329445, 354075
Bearing: S
This is the school yard, as seen from the Pleasant Lane side.
It wasn't always like this. The original yard followed the contours of the land, leading to a huge slope upwards from left to right as you look here. We played football across the slope, the toilet blocks were at the top of the slope, and there was a wall about halfway across to separate the boys' yard (this side) from the girls' (t'other side), although - at least when I went to school here - there was a gap in the wall so that all the pupils could go into and out of the building the same way.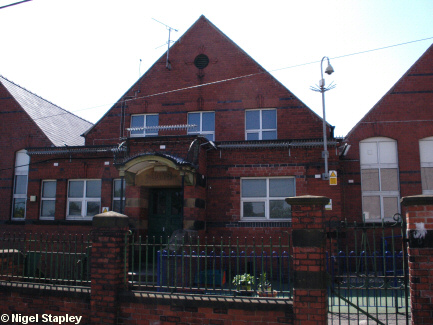 Grid reference: SJ294540
Co-ordinates: 329472, 354085
Bearing: S
Above is the former boys' entrance of the school. I well remember, aged about seven or eight, our being marched (in pairs, holding hands) up the lane from the Junior School for lunch - as our school had no canteen facilities - and going in through this door.
© Nigel Stapley