Date: 22/04/05
A Guiding Light Goes Out
I'm not sure if I really had any feeling of belonging to any country back in my childhood. Living in an almost totally Anglicised village scarcely an hour's leisurely walk from the border with England, the notion of 'Wales' was one which hardly impinged upon my consciousness. Oh, we had about an hour a week of Welsh lessons in junior school, and we knew a bit about St David and the flag, but that was about all. For the most part we couldn't even get television from Wales, due to one of those interesting 'oversights' or sets of 'technical difficulties' which have always been the excuse given by the authorities for such deficiencies. I suppose we counted ourselves as British, that nebulous state of feeling that you were it without actually being able satisfactorily to define what it was.
I suppose the same lack of awareness continued into my teens, and I don't really remember the point at which it changed.
It could have been a fortuitous by-product of one of the absurdities of our education system at that time. At the age of fourteen, with one's entire class having taken virtually every lesson together for the first three years in secondary school, now choices had to be made. These decisions were far-reaching ones, in as much as they determined what you would study forever thereafter.
Some decisions were easy to make: Physical Education? Sod all that running about, I chose Music. Woodwork? No talent there at all, let's try History instead.
There was one choice which caused me some unease, though. In what disordered mind did the resolution formulate itself that, at that age, a child should have to choose between studying his or her own nation's language or studying one of the major languages of the world? Why was I forced to choose between Welsh and French?
Truth be told, the decision was made for me. Although my marks in Welsh the previous year were very good, I had somehow managed that year to get a scarcely-believable ninety-six per cent in the French exam.
So, I chose Welsh.
This was not merely the early sproutings of a tendency towards perverse decisions which was to go on to enrich my life whilst simultaneously impoverishing my finances. You see, in my third year, the French teacher had been a maniacal Parisian woman who was largely incapable of dealing with a class of twenty-odd hormonal explosions. Lessons frequently descended into farce (or even grand guignol), the bolder boys nicked exercise books from the cupboards and, for the more swotty of us, it became no joy at all. That this same woman gave me ninety-six per cent for a paper which included an essay about Wales beating France in a rugby international indicates either that she too had a perverse personality, or that she knew she was leaving the school that summer to start a family and was beyond caring. I suspect the latter.
So, I chose Welsh. This turned out to be wise in another way. La Parisienne's successor was, by all accounts, a fearsome harpy whose reputation caused her to be known universally simply as 'The Dragon', and whose methods probably led her charges to a deep Francophobia of Sun-like proportions.
I can't say I was that enthusiastic in my studies of Cymraeg in the subsequent two years. All that I am sure of is that it made my choice of A-level subjects easier when they came along.
Certainly by that time I had developed a firmer consciousness of what my identity was. I watched with impotent fury as I saw first-class arseholes such as Neil Kinnock stomping around the country campaigning against their own party's policy to provide some faint semblance of democracy to the way we were governed, leaving no smear unspread, no myth unmediated, in their desperation. And they succeeded, of course.
Through this period, there was one figure in our national life who seemed to stand head-and-shoulders above the dirt: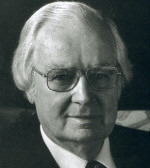 Gwynfor Evans had been leader of Plaid Cymru for over thirty years by that time. He had been the party's first MP after winning a by-election in Carmarthen on Bastille Day, 1966. He had been active on behalf of our nation and language since the late 1930s. He had led campaigns to stop the English War Ministry from stealing hundreds of square miles of farming land for bombing ranges. He had been a major figure in the attempts to stop a thriving Welsh-speaking community near Y Bala from being wiped out to build a dam to provide water for factories in Liverpool.
Through all this, he faced powerful and hateful enemies, particularly from the Labour Party, who ruled what amounted to a one-party state in many parts of our land. From the thuggish behaviour of his fellow councillors in Carmarthenshire, via the boorish arrogance of the Labour rulers of Liverpool Corporation at the time of Tryweryn, to his very first day as an MP, when an egregious Labour minister remarked how refreshing it was to see a 'fascist' in the House of Commons; right up to the end of his electoral career, when he had to suffer the infernal squeakings of a ninth-rate Labour candidate called Dr Alan Williams, the personification of Hobbes' description of human existence ("nasty, brutish [...] and short").
Throughout, Gwynfor Evans remained firmly committed to his beliefs and worked in whatever constructive and dedicated way he could find to advance them. His promise to fast to death unless the Thatcher regime kept its promise of a Welsh-language TV channel forced the so-called 'Iron Lady' into an embarrassing climbdown.
It was this towering integrity which made a patriot out of me. If someone could work so hard, be willing to sacrifice so much, for the cause of our nation's liberation, and without ever yielding to the temptation of intemperate words or conduct, then the least I could do was to lend my shoulder, however weak, to the wheel. Plaid is the only party to which I ever belonged (albeit briefly; I'm no more a party animal politically than I am socially).
I disagreed with him on some points, most notably regarding his outright, uncompromising pacifism, regarding it as naïve. But Gwynfor Evans was an example to me as to many others, and his leadership was crucial in gaining recognition by the imperial authorities of our rights as a nation; indeed, recognition that we were a nation at all.
Gwynfor Evans died this week at the age of 92, after a long period of ill-health and incapacity which was an unjust fate for one who gave so much. At least now he is beyond all pain, and he remains our inspiration as we seek to gain that sovereignty which is rightfully ours.
Gwynfor, diolch o'r galon a phob hedd i chi.