Date: 09/01/09
"You'll Hear My Voice..."
Dave Dee (David John Harman)
Singer
b. 17 December 1941, d. 9 January 2009
Dave Dee, Dozy, Beaky, Mick & Tich have often been overlooked as one of the great bands of the late sixties. It may be that their name (based on their nicknames) doesn't help their crit-cred. But those who take the care to look further will be rewarded by a catalogue of remarkable recordings released over a period of about five years.
True, nearly all their hits were written by their managers Ken Howard and Alan Blaikley, but when they were as consistently good as they were and when they covered such a variety of styles - the leering suggestiveness of Bend It, the exoticism of Zabadak!, the psych-pop and intriguing back-story of Last Night In Soho (was it really about a rent boy? The lyrics suggest so) - combined with fine production and arrangements, that doesn't matter. Add to that the fact that they had a wild live style - honed in the clubs of Hamburg and Köln amongst other places - and they were always bound to be a cut above.
The Legend Of Xanadu was probably the pinnacle of their achievements, and if you click on the picture of Dave Dee above you'll be taken to a clip of them performing it on Top Of The Pops (although I think it only fair to warn you that the clip contains dangerous concentrations of unexploded Jimmy Savile!). That song, that arrangement, that drama, that whip (although the 'whip' sound was made by means of a pedal steel guitar, a metal bar, two wooden blocks and some technical trickery)!
The band's own compositions were confined to 'B'-sides and the four albums they released, but they often show even more adventure than the hits. The Sun Goes Down (the 'B'-side of Zabadak!) is the story of a man about to be executed, and is pure psych. Click on the image below to hear an excerpt: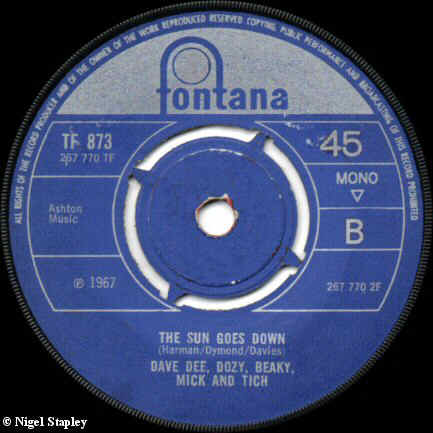 Those who know their sixties music have long recognised the significance of the former policeman and his mates. Thank you, Dave.