Date: 17/01/09
One Last Spin
My 78s conversion project is now all but over and, as promised, I'll share some of the discoveries with you now.
First a few words about the process itself. Having transferred the discs to my PC through the Audacity software, I found that the results weren't as good as I'd hoped, even with the lowered expectations which came from knowing in how bad a condition many of these old platters were. So, I installed my old copy of Magix Audio Cleaning Lab and put them through that as well.
The results were mixed: some of the tracks came up quite nicely, but other were clearly beyond help and were only included simply for - as it were - historical purposes. There's always a dilemma when doing things like this: if you don't do anything to the original tracks, the hisses, pops and general sound quality (or lack of it) will render them all but unlistenable. However, if you go the other way and try to process every last click out of them, then you end up with something which just sounds artificial (what I call the 'metal box' effect) or which is so full of artifacts produced by the cleaning process that it makes for a very poor listening experience. So a balance must be struck, one which recognises the limits of the technology and which maintains a degree of authenticity in recordings which are between fifty and a hundred years old.
Anyway, on with the selection. Click on the pictures to play the tracks:
First off, here's the oldest item in the bunch. It's by George Formby Senior. Not the one with the ukelele and the face like a distressed halibut, but his dad, who was a noted music hall performer in his time. This track dates from about 1910 1911, and is an indication of what passed for comic material on record a century ago: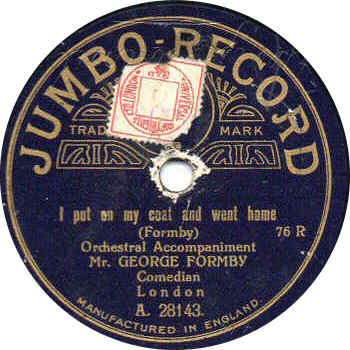 (If you're wondering what that stamp is doing obscuring the elephant, read this article by Adam Miller)
Moving on about twenty years, Leslie Sarony was one of the most prolific writers of comic songs in the twentieth century. Here's one he recorded for the budget Eclipse label in 1931. The lyrics even refer back to an early song of his, Forty-Seven Ginger-Headed Sailors, which I also have in the collection but not in good enough condition to share with you: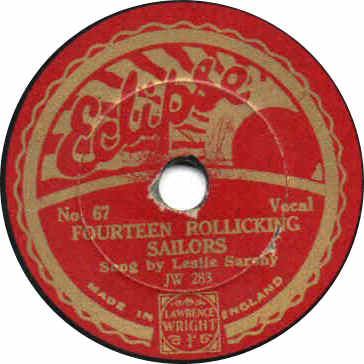 Another Eclipse artist was Roy Leslie. I've been able to find out nothing else about him other than the fact that he even recorded covers of Leslie Sarony's songs for the label they were both working on. Here's a jolly number from 1932: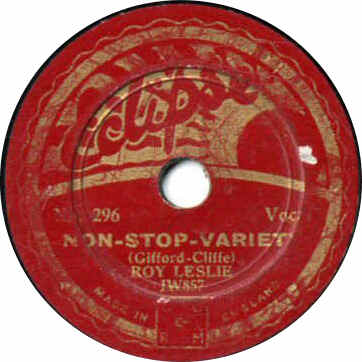 There were a number of other comedy items in the bunch, but few could be said to be amusing now. One which is still quite funny is this next waxing, by the comedian Norman Evans. His most famous creation was that of a toothless woman gossiping over the garden fence to her neighbours (you can see a clip of him/her in action here), which struck a chord with me because when I were a lad in the 60s and early 70s, there were still women like this about around our way who would behave in exactly this fashion. Our sample here, though, is from 1935 of his character Joe Ramsbottom (and his wife Mary, and the salesman), who has decided to buy a piano: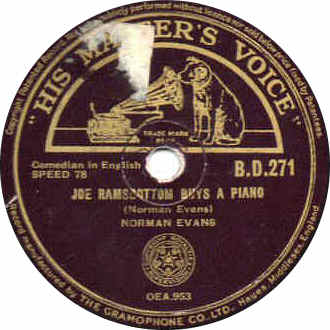 Eclipse Records - despite being set up simply to sell in Woolworth's - also had some quite big names recording for them, such as Donald Peers (although this was very early in his career). Peers, a native of Betws in the Amman Valley, went on to great success in the 40s and 50s. Here he is in about 1934 1935, accompanied by a ukelele which is flat (but not quite flat enough, if you see what I mean):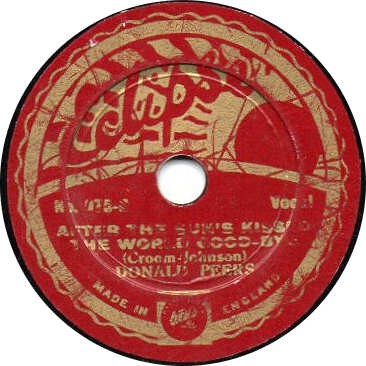 (You can see from the state of some of these labels that using gold print on a red background was not a good idea - it tended to rub off pretty easily)
A lot of the discs were dance-band numbers from the period 1925 - 1950. There were about five in there by Roy Fox and His Band. Fox, an American, had great success in Britain in the 1930s. Here's his band (with trumpeter Nat Gonella on vocals) in 1931 1932 (as John Peel used to say, "...Fades in..."):
Another star of the dance-band years was Charlie Kunz. Another American who settled in Britain, Kunz initially worked with dance bands until moving on to concentrate on solo piano work from 1934. Here he features with his band in a very jaunty little number from 1929: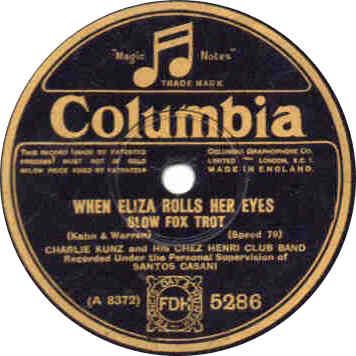 Finally, I move on to one of the least old of the 78s I have. Embassy Records was a successor to Eclipse, in that they were made to sell cheaply in Woolworth's, but they concentrated almost entirely on cover versions of what was in the charts at the time, producing tracks which weren't really very much like the originals, but people weren't as hung up on that sort of thing in those days. They did manage to get some good performances, however, as they were able to call on singers and musicians who had performed in or with the dance bands but whose careers had suffered with the coming of rock'n'roll.
One such was Paul Rich, who had sung and played guitar with Harry Leader and Lou Preager before leaving music to run a business. From 1957, however, he began a run of over sixty recordings for Embassy. This was one of the first of them, a cover of a Johnnie Ray hit. Some of his enunciation is, shall we say, over-precise for the song and the times, but it's a good song with a good arrangement by Ken Jones:
And there we have it - a few snippets from recording history. I hope you've enjoyed the little tour, but now it's time to put the records back in the spare room and burn the files to DVD for the archive.
(Dedicated to Bill Everatt and all at Celtica Radio)