Date: 07/12/18
"Oh Shit" (*)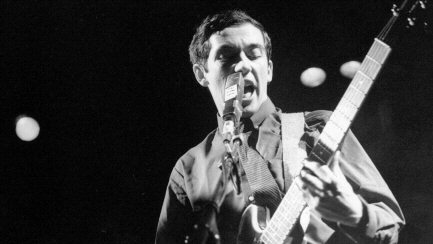 Pete Shelley (Peter Campbell McNeish)
Musician and songwriter
b. 17 April 1955, d. 6 December 2018
There was always something different about Buzzcocks (no definite article, note).
In the midst of the punk craze, there were clues to a musical hinterland larger and deeper than the three-chord thrash typical of the time. There was nothing of the posing and posturing of sad little kids trying to be hard. And there was a subtlety to the lyrics which expressed a male vulnerability in the face of love, sex and romance which was utterly alien to the ramped-up 'fuck you' misogyny of many of their contemporaries.
Just about all of this was down to the musical sense and lyrical finesse of Pete Shelley, whose ambiguous sexuality was expressed obliquely in his words at a time when (pace Bowie) it was problematic to be open about it.
On top of which, he wrote some absolute classic pop singles - ones which, unlike nearly all their contemporaries, still sound fresh and dynamic today - of which this is the best, and the best known, with a sound and an aesthetic which was to influence large chunks of the 'indie' scene in the following decade and beyond; an indie scene which, moreover, they more-or-less started with their self-made Spiral Scratch EP at the beginning of 1977.