Date: 14/09/20
How Did You Like Them Apples?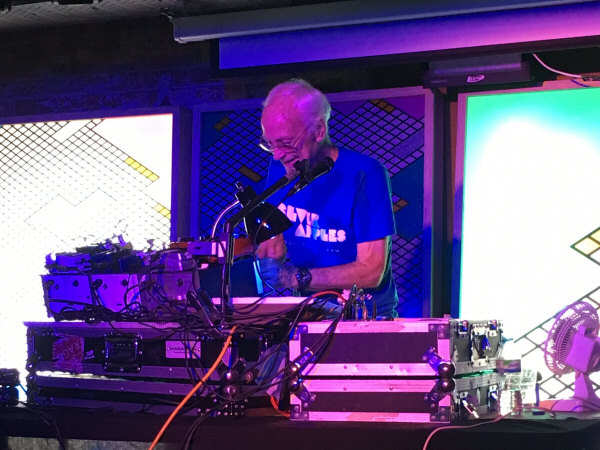 Simeon Oliver Coxe III
Musician and songwriter
b. June 4 1938, d. September 8 2020
It's often the case that the true pioneers and trailblazers of artistic endeavours go largely or totally unrecognised in their lifetimes. This nearly happened to Simeon Coxe, co-founder of the experimental group The Silver Apples. Luckily, the appreciation of his contribution to opening up a new field of rock music - one heavily dependent on electronics for its style and power - arrived in time for his influence to be acknowledged in his own time.
There had been electronic music before The Silver Apples formed in 1967 of course, and headline bands such as The Beatles had made some use of the new instruments prior to that point, but - largely because of their expense - the early synthesisers and other hi-tech doobries had tended to be more of a feature in 'serious' avant-garde music such as that composed and produced by Stockhausen, Subotnick (from whose piece Silver Apples Of The Moon the subjects of this piece took their name, although some sources claim that the name derived from Yeats' The Song Of Wandering Aengus) and Perrey; or, alternatively, it was used to give gimmicky treatments to classical pieces at the height of space-age over-optimism.
The origin of The Silver Apples was a jobbing New York City rock band called the Overland Stage Electric Band. Coxe started out as the singer, but started to introduce an audio oscillator of 1940s vintage into the band's sound. This so pissed off all bar one of the other members of the band that they left, with only Coxe and drummer Danny Taylor remaining, at which point the duo renamed the band and struck out on their own path.
That path comprised of Taylor's drumming behind Coxe's increasingly elaborate collection of oscillators and a dizzying array of controls (operated by hands, feet and elbows) to guide the lead, rhythm and bass sounds. This extremely unlikely and frankly bizarre setup (Coxe called his assemblage of kit the Simeon, in an act either of ego or a recognition that - a decade before Kraftwerk took the concept to its zenith - man and machine were intertwined) landed them a recording contract with Kapp Records, who released the band's eponymous first LP in 1968. From that, here's the opening track, Oscillations (which Coxe said was the first song he had ever written, and which - like eight of the nine tracks on the album - had lyrics by poet Stanley Warren):

The second track, Seagreen Serenades was what got Warren involved in the first place, as it was one of his poems which Coxe and Taylor had already set. A pleasing organic element was added - not for the first time in the band's repertoire - by the presence of a recorder:

Later in the album, they nod somewhat towards the work of Stockhausen - and somehow have a time machine looking ahead to sampling a decade or more later - by including taped snatches from radio in - what else could it be called? - Program:

This wouldn't be a sixties album, however, without a gesture towards the indigenes of North America, and so - without any notion of what would now constitute 'cultural appropriation' - is Dancing Gods:

The album was quite well-received (by the heads if by no-one else), and this led to the release of the second LP, Contact later in 1968. Here's the lead-off track, You And I (complete with the sound of an aircraft taking off):

And now, something to demonstrate that Coxe and Taylor had a playful side to them. The banjo was the first instrument Simeon learned to play in his native Tennessee, and here he can be heard picking away in The Silver Apples' rambunctious take on bluegrass legend Cousin Emmy's Ruby:

There was a tenderness to some of the tracks. This one, I Have Known Love, if it were to be shorn of its unfortunately blaring instrumentation and the fact that Simeon Coxe couldn't sing, would otherwise sound almost like a straight love song of the period:

There was a darker tinge to it as well, however, and here's the brooding A Pox On You:

At was at this point that the shit hit the fan. As part of the artwork for Contact, Kapp Records had arranged with Pan Am for Coxe and Taylor to be photographed in the cockpit of one of the airline's jumbo jets, and a shot of this formed the front cover of the LP. Unfortunately, the rear cover featured the duo sitting in what looks like the wreckage of a plane crash. Pan Am were decidedly unamused and - this being corporate America - sued the record label (which promptly closed), and took their gripe to such a degree that The Silver Apples had their equipment seized by the company's goons while they were on stage performing.
At which point, although material for a third album had been recorded, Coxe and Taylor said, "Screw this", and went their separate ways. Taylor vanished from sight, whilst Coxe worked mostly in local television news in Alabama.
And there it might have ended, had not a German with an eye to the main chance issued a bootleg of the first album, taking advantage of a new curiosity about The Silver Apples amongst some of the big names of the time such as Stereolab and Portishead.
This all led to Coxe assembling a new Simeon (the old one having been destroyed by a hurricane in 1979) and hitting the road (the first two albums having in the meantime been given a formal reissue as a single-CD set) with a new band comprising himself with Xian Hawkins and Michael Lerner. Dan Taylor was finally tracked down, and he and Coxe started working together again.
The third album, The Garden, finally saw the light of day in 1998 with Simeon dubbing new parts over the original tapes and, having listened to it once, it turns out to my mind to be probably the best of the three; the playing is more assured, the production is less lo-fi and the tracks show more of the playfulness which was exhibited only fleetingly on Contact, with seven of the fourteen tracks being instrumentals, each with the word 'Noodle' in the title, no doubt as a form of self-deprecation.
For reasons of concision, I will confine myself to just one track (I only heard it for the first time myself last night). This is Walkin':

Two new albums were also released in quick succession. Beacon (1997) included three reworkings - I Have Known Love, You And I and Misty Mountain - along with nine new pieces showing that, although the instrumentation had been updated, the band's off-kilter vision remained intact (and Simeon's singing had substantially improved in the interim). The legendary Steve Albini was in on the act as well, as it was recorded in his studio in Chicago. Here's Hocus Pocus (again as a mere taste because I only caught up on this one this afternoon):

(Its follow-up, Decatur (1998) is one forty-two-minute-long track which is not only purely instrumental, but which is genuinely experimental, harking back to the avant-garde material produced by other composers and performers at the end of the sixties)
in addition, there was a standalone single, Fractal Flow, which was played by John Peel on his show one night in 1996, which is how I first heard about the band:

At this juncture, Fate decided to fart in the faces of The Silver Apples again. While on tour in 1998, their van was run off the road and Simeon's neck was broken. For a while, it looked as if he would never play again, but he put himself through a punishing rehabilitation process and - after about six years - was able, with some adjustments, to play his electro-mechanical namesake again.
A few collaborations and standalone singles apart, however, there was to be no new material released until 2016's Clinging To A Dream, effectively a Coxe solo album which often strikes an elegiac, even doomy note in both music and lyrics, whilst sounding at one and the same time as if it could have been released back in 1970 or any time since the turn of this century. For example, here's Drifting, which might have been a chill-out-room hit when The Orb were getting going:

Throughout these years, Simeon Coxe kept on playing and toured extensively (at least for an artist at his level of public prominence), often solo (Danny Taylor having died in 2005). He wasn't prone to nostalgia with regard to how he made his music either, fully embracing the technological developments of more recent decades, with Taylor's drum patterns digitised and used as samples to produce new works both live and in the studio. He was still productive and still inventive right up until 2019, by which time he had been given his due respect as a pioneering figure who - whilst he never made much direct public impact - had influenced so many (most obviously early Kraftwerk and the electronic side of early Hawkwind) and so much (the electronica and dance culture of twenty years or more later) that his legacy - in as much as he probably cared about such things - now seems properly secure. He had us constantly on The Edge Of Wonder: