Date: 15/09/21
"Comrade Ryan, ¡Presente!"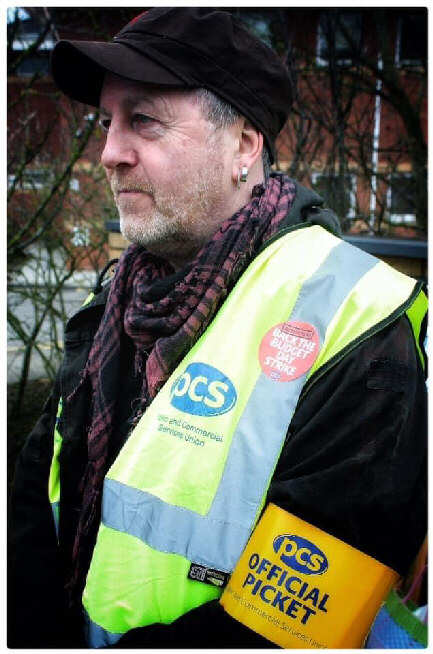 Stephen Ryan
Trade unionist, activist, public servant
b. 1954, d. 14 September 2021
It was when I attended my first ever union meeting - of what was then the Inland Revenue Staff Federation (IRSF) in 1991 - that I first encountered Steve Ryan. I don't remember much now about my first impressions of him, except that he was an enthusiastic union man, perhaps even to the point of being dogmatic (at least to the eyes of an outsider such as I was at that time).
As the years went by and I came to observe him and know him better, I saw that he was far more rounded a man - as a person and as an activist - than I had appreciated to begin with. For one thing, he wasn't as one-dimensional as I had originally thought. His politics were clearly and committedly of the Left, of course; but he was no inflexible 'follow-the-leader-and-toe-the-party-line' activist. He had thought out his own positions, sure; but he was willing to change at least the nuances of those standpoints if he came across a better fit with his own principles.
(He latterly described himself as a 'left libertarian', which label had always previously struck me as being either contradictory - such was the way that the word 'libertarian' has been colonised by the Screw-you Right in recent decades - or simply wanting to have it both ways. It was only when I did one of those on-line, "Where are you on the political spectrum?" quizzes (this one, in fact) that I discovered that I was a 'left libertarian' as well. Although I'm still not sure what that means in philosophical terms).
His refusal to allow himself to be straitjacketed by conventional ideological boundaries meant that he moved from one group within the Public and Commercial Services union (PCS) (as it later became) to another every few years. But at all times, he did this not merely more aptly to match his own position, but to find the most effective way to protect and promote the interests of the union's members, and of the services they provided.
That same shifting of formal allegiances almost certainly worked against him when it came to Group, Regional or National elections (where members - where they bother to vote at all - have long tended lazily to vote for a 'slate' of candidates rather than to be more discerning), and his periods on the major committees of the Revenue & Customs Group were comparatively brief considering his commitment and enthusiasm (which are attributes which tend to annoy those who want positions of prominence for their own self-importance and self-promotion).
Nonetheless, he was a permanent fixture in rôles within the office and the branch throughout the time I knew him, and they - we - were always his primary concern (something else which pisses off the hierarchy of any organisation), even though he would express privately his annoyance with the degree of apathy he encountered amongst the people he represented; an annoyance which was only mildly bevelled by the delightfully amiable West Country accent in which he expressed it.
His activities weren't confined to union work, however. He could be seen well beyond that in any movement which aroused his sympathies, be it environmental concerns, anti-austerity campaigns or manning the beer tent (no fool, that lad!) at music festivals. To all of them, he brought the same core principles, the same good humour and at all times the same determination to make this world a better place for all, especially for all those who have been the regular victims of the abuse of power of all sorts which is so rampant in our times.
I remember many a pleasant and entertaining conversation with Steve - especially in recent years - on the subjects of politics, music and The World In General, and it was always good to talk with someone of a similar outlook. I'll miss him for that as much as for anything else.
Farewell, comrade. La Lucha Continua and, as Joe Hill (who may well have been one of his heroes) put it shortly before he was murdered by the state of Utah in 1915:
"Don't waste any time mourning. Organize!"
Update: There's a nice tribute on the PCS website.