Date: 26/03/22
Touching Bass With Bert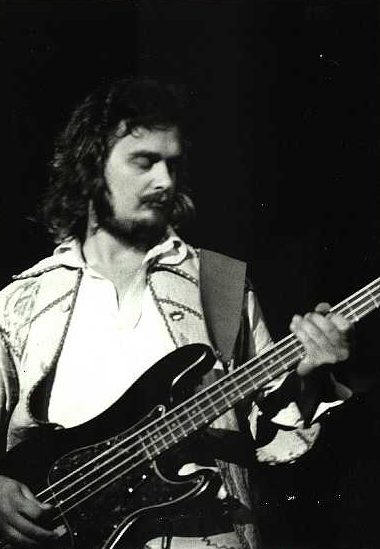 Albertus Clemens Ruiter
Musician, composer, producer
b. 26 November 1946, d. 24 March 2022
I may have mentioned elsewhere that I came to rock music comparatively late. This was largely due to my parents being of a far greater age than those of my contemporaries, so the "...that bloody noise!" school of music criticism was rife in our household. Besides which, I thought that it was far too noisy for my tastes anyway.
This only began to change when my brother moved back in with us for a few months in early 1974 whilst he was between marriages. He brought with him a substantial hi-fi system, of the sort I had only previously seen in other people's homes (shows you how long ago this was, it had an 8-track player rather than a cassette deck).
And quite a few records, of course. I still thought most of them too loud and brash for my temperament, but that changed when my brother bought a copy of an LP called At The Rainbow by some Dutch outfit called Focus, from whom I knew nothing. When he was out one evening - courting (sheesh, that's an old-fashioned word, isn't it?) the girl who became his second wife - I was up in our bedroom and dared myself to put this album - which was housed in a fold-out sleeve - on the turntable.
I'm not going to say that I was bowled over by what I then heard, but the music was a lot more textured, a lot more intricate, a lot more interesting than what I had assumed rock music to be up to that point. These were four obviously accomplished musicians, working together as a tight unit to produce music which was in turns dynamic and subtle.
Because I've always had to be - to use my mother's frequent phrase - 'bloody awkward', my attention was captured most, not by the guitar virtuoso Jan Akkerman, nor by the mad yodelling of the keyboardist and flautist Thijs van Leer, nor indeed by the drummer Pierre van der Linden, but by the bass playing of Bert Ruiter. This was something which had never really impinged on my musical consciousness before, but I found the sound intriguing.
(I had to ask my brother which of the two guitarists whose photographs adorned the inside cover was Bert and which was Jan. He pointed out that a bass guitar has only four strings, another fact of which I was sorely ignorant).
In fact, suddenly I wanted to be a bass player. This desire - like a lot of others in my life before and since - was highly inconvenient; I couldn't possibly afford a bass, let alone the amplifier which would be required to go with it.
Needing to feed my appetite however, I took the somewhat battered three-quarter-sized acoustic guitar which had been gifted to me by a friend of my father's (the top two strings were long gone and had been replaced by nylon fishing line; improvisation is your only man when you grow up in straitened circumstances), tuned the remaining four strings down to the point where the bottom string felt (and sounded) like knicker elastic and started trying to play along with Bert. While slightly satisfying, it was clear that - without some sort of guide or tutor - this venture into musicianship was as doomed as all the ones prior to it and all the ones to follow.
But some sort of seed had been planted between my ears (fertile ground for growing things if my mother's tart comments on their cleanliness were anything to go by), and from then on until this very day I have always taken more interest in the bass component of any piece of music than in any other aspect of it.
At The Rainbow was a live set recorded at the famous London theatre of that name in May 1973, and featured tracks from Focus' previous two studio LPs. Ruiter wasn't in the band at the time of 1971's Moving Waves, but had replaced Cyriel Havermans in time for the double album Focus 3 the next year. This line-up - although lasting scarcely more than two years - is still regarded as the 'classic' formation of the band; indeed, van Leer and van der Linden are still there in the re-formed version.
Ruiter - having knocked around with a number of bands from the mid-sixties onwards - was clearly the bass player that the others had been looking for, and he stayed in Focus (as 'twere) for four studio albums in all (including a somewhat ill-advised teaming up with legendary sixties pants-splitter P.J. Proby; an LP which isn't, for all that, as bad as it may appear on the surface). After leaving the band, he joined Earth And Fire (no wind, you notice) for a short while before concentrating on production for the rest of his career; apart, that is, for a rather fractious Focus reunion at the beginning of the nineties.
Although he was never considered to be in the same league of rock/jazz bass legends such as, say, Jaco Pastorius or Percy Jones, his input to Focus' sound was crucial, and his contribution to my musical education was priceless.
I'll end with two examples. Firstly, from that live album, here's Answers? Questions! Questions? Answers!, a co-write with Jan Akkerman:

The second track comes from the 1975 LP Mother Focus (and do you know how long it took me to 'get' the joke in the title? Far too motherfoc-ing long, that's what). van der Linden had left in late 1973 to be replaced by veteran English drummer Colin Allen for 1974's classic Hamburger Concerto, but he too had left to be replaced by American sessioneer David Kemper. The band's sound changed quite markedly at the same time, with Mother Focus annoying the purists amongst the band's followers (including one critic who dismissed it altogther as 'tepid disco-funk'). Ruiter - having had two co-writes on Focus 3 (the other being the side-and-a-half-long jam Anonymus II), and having had no composing credits at all on Hamburger Concerto - wrote four of the six tracks on side one of Mother Focus outright, and had a writing credit on a fifth. But it's the one track he co-composed on side two which I want to toss your way here. My Sweetheart displays a drive and a melodic sense which makes it one of my all-time favourite Focus tracks (and a near-permanent place in the various Hundred Best Tunes lists I've compiled down the years). But it's Bert Ruiter's bass playing I want you to focus (sorry) on here, managing to be intricate and funky at the same time:

Bedankt voor de muziek Bert, en slaap lekker.