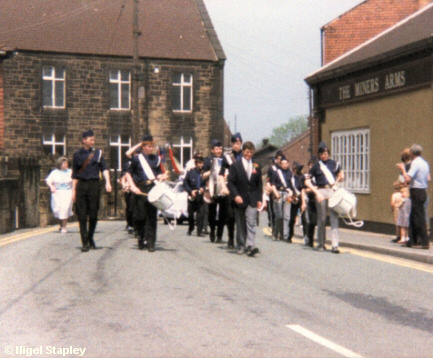 Grid reference: SJ294538
Co-ordinates: 329415, 353810
Bearing: N
This is a shot of High Street looking North, taken on Carnival Day sometime in the late 70s or early 80s, with the Boys' Brigade band in the van.
Behind them is Engedi Welsh Methodist Chapel and on the right of the photograph is the Miners' Arms pub, which was previously the Co-operative Stores.

Grid reference: SJ294539
Co-ordinates: 329457, 353930
Bearing: S
High Street from the other end this time, in a photograph taken on 1st March 1994. Engedi chapel (now derelict) can again be seen in the middle, the Miners' Arms beyond it, and the then village Post Office on the left.
The derelict land on this side of the chapel once contained (amongst other things) Pryce Davies' grocery shop. It now contains three of those pokey little houses which seem to be filling the gaps everywhere nowadays.
© Brian Stapley & Nigel Stapley