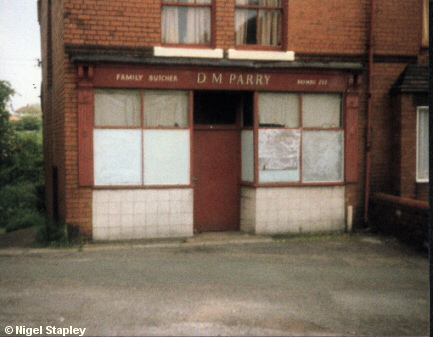 Grid reference: SJ294538
Co-ordinates: 329482, 353810
Bearing: E
Harwd is a corruption of 'Harwood', which is what this part of the village was called in ancient times.
We had a lot of shops at one time. Two newsagents, five grocery stores (including a large Co-op which had hardware & haberdashery departments as well), and two butcher's shops. This was one of them, Parry's on Harwd Road. It closed in the early 80s, and the shop and the adjoining house have since been demolished.
We now have (in a village of over 3500 people) just one general store, a chemist's and a Post Office.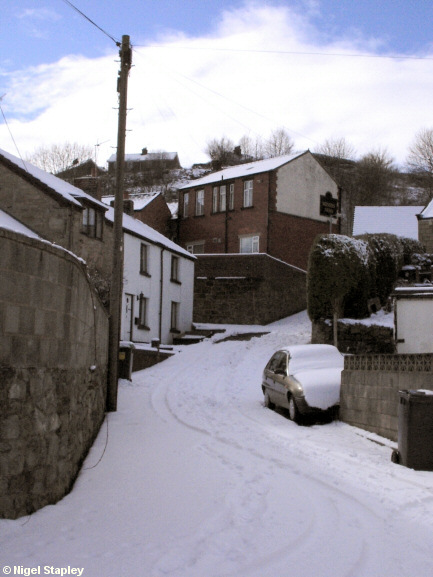 Grid reference: SJ294538
Co-ordinates: 329477, 353842
Bearing: W
The thing about a lot of villages is that some parts of them are known to the inhabitants by names completely different from their 'official' ones.
So 'officially', this is Bryn Road. To those of us who belong here though, it's really Parry's Hill, named (I presume) from Parry's butcher's shop shown in the previous photograph, which stood just behind where I took this photograph from.
The Miners' Arms on High Street stands in the upper centre of this picture, and the houses on Min Y Graig (another 'official' name - we just called it The Ring) can be seen above and to the left of it.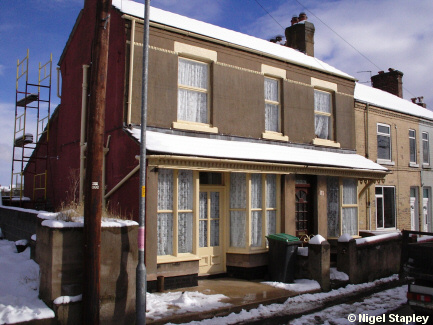 Grid reference: SJ295537
Co-ordinates: 329500, 353790
Bearing: ESE
As you might be able to guess from the layout of the frontage of this building, this used to be another of our shops.
This started out as Copperthwaite's toy shop. By my time, it was Vera's general store (Vera having moved on from having a wool shop at the junction of Harwd Road and Railway Road). It used to stand in the middle of a row, further along from Parry's the Butcher.
Of course, in this car-owning, oh-let's-troll-five-miles-down-the-road-to-Tesco's age, such a small village shop was never likely to last even without the blow of the Steelworks closing, and Vera retired many years ago. Another part of the village's life went with her shop, and all the others which have closed in the last thirty-odd years.
© Nigel Stapley