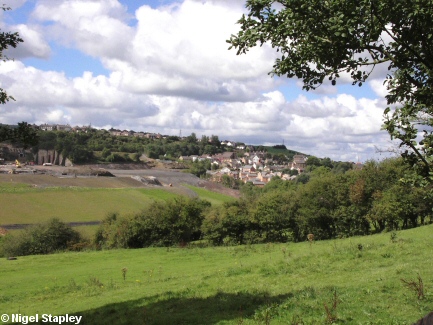 Grid reference: SJ302531
Co-ordinates: 330248, 353130
Bearing: NW
The former steelworks site as seen from across the valley on the Long Lane between Pentre Broughton and Brynteg, with The Mount and the bottom part of Brymbo in the centre of the picture.
In the valley to the left of the picture stands the village of Lodge. The whole of the western part of the village was demolished in the 1960s and 1970s to make way for expansion of the steelworks.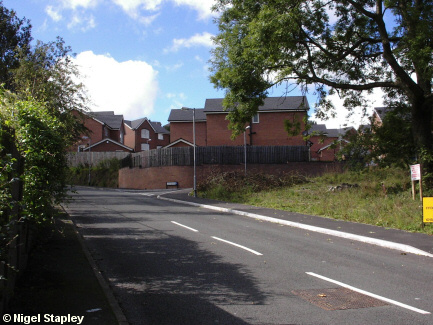 Grid reference: SJ296537
Co-ordinates: 329685, 353705
Bearing: W
An example of regeneration? Or simply proof that it isn't just flat ground that they'll build anything on nowadays?
This is Mount Isa, built on the site of the former Brymbo Wharf railway station.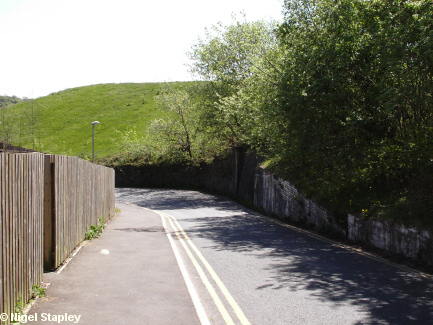 Grid reference: SJ295537
Co-ordinates: 329578, 353713
Bearing: SE
The whitewashed wall on the right-hand side of this picture marks the site of the Mount Bridge, which carried the railway out of the steelworks.
It was a very low bridge. When I first knew it, the headroom was 7' 9". By the time it was demolished around the turn of the century, the road beneath it had been resurfaced so often that it was down to 7'.
Whatever height it was, one or two vehicles came to grief under it down the years, especially as the slope of the road on the lower approach fooled drivers coming up the hill into thinking that the bridge was much higher than it was.
Note that the road below the bridge curves sharply to the left. It wasn't always so. Up to about World War One, the road carried more or less straight on, linking up with Railway Road just below Bethel Chapel, rather than joining at Tai Bridge (see next photo).

Grid reference: SJ297537
Co-ordinates: 329703, 353700
Bearing: NNE
This is where the Tai Bridge stood. It carried both the line from the Steelworks down to the main line at Croesnewydd, Wrexham, and the Wrexham - Mold line.
It was the reason why we never used to have double-decker buses up here. Not only was the bridge only 12' 6" high at the peak of its arch, but it stood on a sharp bend. It was only when the route changed to run via Pentre Broughton in 1986 that we saw double-deckers.
The Tai pub (formerly The Black Lion, previously The Tai - sometimes tradition reasserts itself) stands beyond.
©Nigel Stapley