Note: Because the OS have not updated the 1:25000 scale map to show these roads, I've had to kludge it a bit. The map links under each picture on this page will take you to the 1:25000 scale map, but clicking one level up on the Zoom Control on the right will take you to the 1:50000 version, which does show them.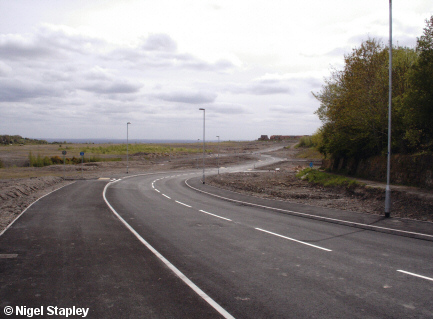 Grid reference: SJ295536
Co-ordinates: 329560, 353680
Bearing: SSE
What was originally called the 'spine road' at its north-western end (which has now been named New High Street), curving down towards the main roundabout. The wall on the right marks where the road going into the steelworks used to run.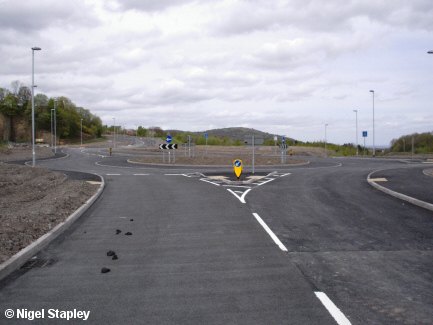 Grid reference: SJ296533
Co-ordinates: 329605, 353370
Bearing: N
The main roundabout (complete here with complimentary horse-shit) which joins the three spurs of the road. This photo was taken from the Phoenix Drive spur, with New High Street going off to the left and the section of Phoenix Drive going off towards Railway Road out of sight to the right. That's Hope Mountain in the distance, by the way.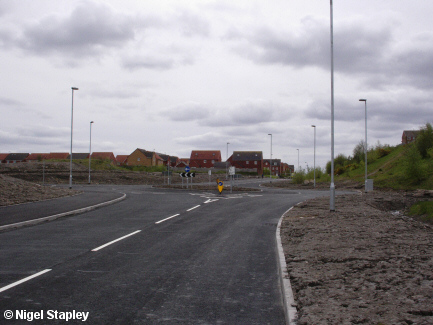 Grid reference: SJ295532
Co-ordinates: 329580, 353240
Bearing: S
This roundabout marks the southern end of the road where it joins up with the main part of Phoenix Drive on the new housing estate. Note how the 'stumps' of other roads have been put in position for when (or if) they might ever be needed.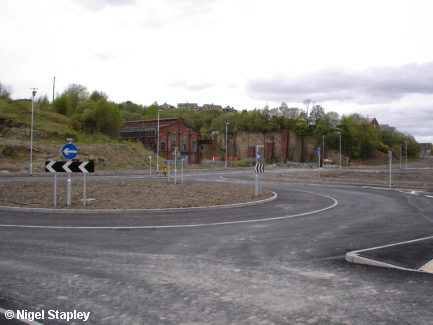 Grid reference: SJ296534
Co-ordinates: 329665, 353450
Bearing: WNW
Looking across the main roundabout at the remaining steelworks buildings, specifically in this case the machine shop and the 'charging wall' which supported the coke ovens and the railway lines which brought the raw materials to be top-loaded into the furnaces. This area is planned as being one of the centrepieces of the proposed Heritage Area. New High Street leads off upper centre, and the top of the spur to Railway Road is right in front of us.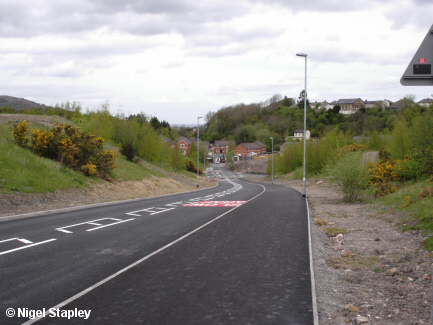 Grid reference: SJ296534
Co-ordinates: 329655, 353495
Bearing: NNE
The long slope down from the main roundabout to by the site of the former Tai Bridge on Railway Road. A new village school is envisaged on top of the bank on the left-hand side of this stretch to replace the existing 1910 building.
© Nigel Stapley