Date: 13/01/16
Improvement For Room
I've blathered on about the Great Winter Project™ a few times, so it's only fair that I show you what I've been doing.
The following three photos come from various stages of the process of fettling up my bedroom. Picture one shows the boards as they were, displaying the grubbiness of them (some of them a radically different colour to the rest to start with) along with the 'chocolate sauce' filling between them:
Next up is the result of all the sanding. 'All' in this case meaning 'belt sander across two diagonals, at 90° to the boards and only then along the boards' length, plus a lot of scraping away by hand with 40-grit paper to get rid of the worst of the rest':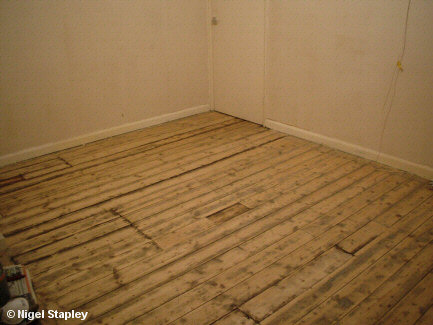 And, finally, the result of having fair plastered the 'light oak' stain on them, such enthusiastic application leading to a darker colour which brings out the patterns and grain whilst reducing the contrast with the filler: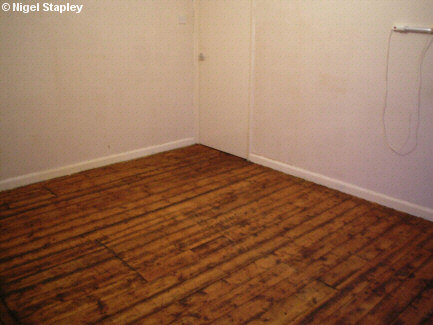 (Well, my niece was impressed by it...)
This afternoon, I moved all the appropriate furniture back in, so that tonight I can sleep in my own room for the first time in two weeks. Progress!