Date: 12/11/18
The Magnificent (#)7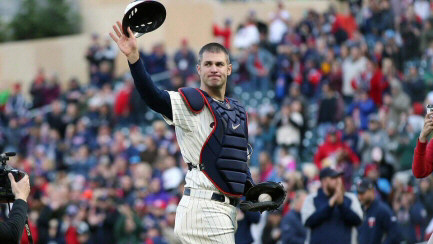 Joseph Patrick Mauer isn't the greatest ever to play the wonderful game of baseball. He never posted the numbers which would put him in the general category of 'legend' alongside Ruth, Dimaggio or Mays.
But he was certainly no journeyman either. In the course of a fifteen-year Major League career, he gained six All-Star appearances as a catcher, he was the American League Most Valuable Player in 2009, he won the Gold Glove Award three years in a row, and he was one of the best hitting catchers in recent decades.
And he did all this for the same club, my dear (and all-too-often exasperating) Minnesota Twins. His home-state club (as I referenced here a few weeks ago).
Last Thursday, Joe Mauer announced his retirement from playing at the age of thirty-five. After a concussion in 2013, he moved permanently to the less dangerous position of first base for the remainder of his career, where he played with equal distinction (although this didn't prevent him from suffering from another post-concussive injury there in 2018). It was these considerations which finally led him to call time on his illustrious career.
Some have questioned whether he has the career numbers to get into the Hall of Fame. But a place in the gallery of the masters of baseball is not down to mere statistics; it is also a question of what you did and how you did it. Joe Mauer always played with loyalty, commitment and integrity, and no-one in and around the game has ever been heard to speakly less than warmly of him. That should get anyone a ticket to Cooperstown.
What must surely be beyond doubt is that he will be an automatic for the Twins' own Hall of Fame, and that that #7 will be retired to be placed with honour alongside the numbers of Killebrew, Oliva, Kelly, Hrbek, Blyleven, Carew and Puckett on the left-field porch at Target Field.
Joe, you served the Twins, the people of Minnesota and the game of baseball with distinction and honour throughout. Thank you, and may the next stage of your life be one of success, good health and contentment.
File under: Sport