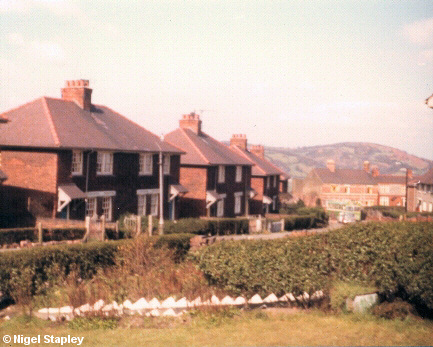 Grid reference: SJ292537
Co-ordinates: 329248, 353728
Bearing: N
This was taken in about 1974 from the front garden of the house I was born in. The view looks North down Ffordd Owain, part of the first tranche of council housing built on Penygraig, with Hope Mountain in the background and a Crosville bus (a Bristol RE) standing at the terminus of route D15 from Wrexham.
The foreground shows the front garden of our neighbours (and distant relatives by marriage) Mr. & Mrs. Hubert Roberts (known to me as Uncle Hubert and Auntie Ada). Uncle Hubert was a very good gardener.
Some recent photographs now: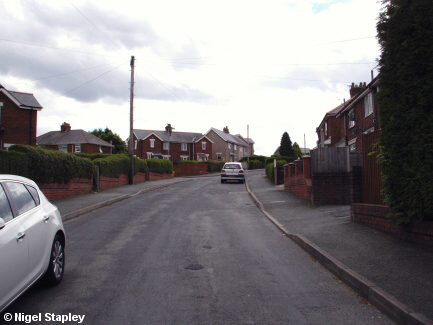 Grid reference: SJ292538
Co-ordinates: 329258, 353859
Bearing: S
We now look back up Ffordd Owain from by the bus stop, with the entrance to Min Y Graig Avenue centre left.

Grid reference: SJ292537
Co-ordinates: 329250, 353736
Bearing: N
And now, back down towards the bus stop again, but this time from road level.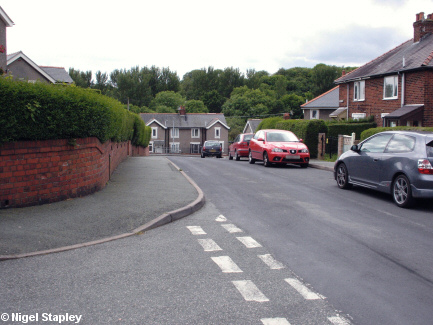 Grid reference: SJ292537
Co-ordinates: 329242, 353726
Bearing: SSW
Tearing ourselves away from obsessing with the bus stop for a moment, we now look towards the lower junction with Argoed from the upper junction with it.

Grid reference: SJ292536
Co-ordinates: 329212, 353676
Bearing: NNE
And here we are looking back up from the same junction.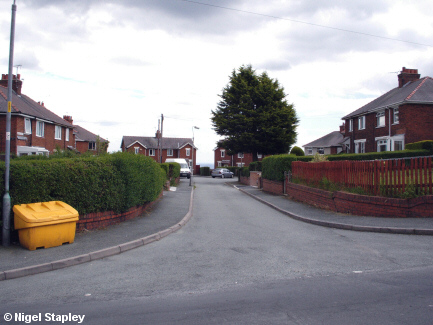 Grid reference: SJ292537
Co-ordinates: 329267, 353798
Bearing: ESE
Min Y Graig Avenue (known colloquially - in that way villagers have of giving locations their own names rather than the ones foisted on them by local government or developers - as The Ring) is a cul-de-sac of sixteen houses leading off Ffordd Owain. Min Y Graig means 'Edge Of The Rock', and indeed it is; the back gardens at the far end from this vantage point back onto The Rocks. You can see a hint of the Cheshire Plain between the furthest houses.
©Nigel Stapley