Date: 10/09/15
In Praise Of The Closed Shop (Part 2)
In Part 1 of my latest rant against modernity, I described how various changes in the economic and social structures over the period of my lifetime have reduced our town centres to places of bland, distance-managed conformity punctuated by dereliction.
If that is what has happened to towns, then it follows that what those same processes have done to villages has been little short of catastrophic in terms of cohesion, choice and even the most common community values. It also allows me to wax nostalgic a bit further, so I'm up for this even if you aren't.
Brymbo has been a large village for well over a century, and particularly since the erection of the Penygraig estate starting just on a hundred years ago. The population of the village itself currently stands at somewhere near 3000, which is probably as high as it has ever been.
Given that, it might be surprising - if reason and logic were to enter into it at any point, of course - that the village is currently served by just one general store, one pharmacy, a tiny post office, one church, one chapel and five drinking establishments (these last two data points at least showing the sense of priorities exhibited by the the inhabitants).
And yet, and yet...within my lifetime and memory, and with - as I suggested - a far smaller population to draw custom from, there were so many more shops, churches, chapels and pubs/clubs, all of which managed to keep going for a long period of years, and all bar a few of which were still in existence as little as thirty years ago.
If you don't believe me...well poo to you, dear. But my evidence is contained in the map below: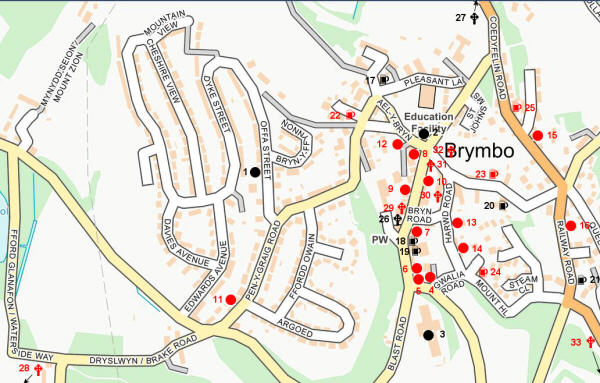 The dots, mugs and crosses in black show what we still have, and the ones in red the ones which have winked out of existence within my lifetime or not long before.
So, thirteen shops, four pubs/clubs and six places of worship - all gone inside the last forty-five years. Let's go through them, shall we, if only for the sake of old times and for those hereabouts too young to remember them. I apologise in advance for the scrolling you're going to have to do to keep tabs on all this:
Shops - Extant
'Sooty's', Offa Street. Originally two shops, but knocked through into one in the 60s. Called 'Sooty's' by a process now lost to posterity. Once part of the Mace chain of stores, now part of Premier.
'The Chemist', High Street. Once known as The Cross Pharmacy and run by a succession of local individual pharmacists. More recently passed in succession through the hands of Royal House of Liverpool and Co-operative Pharmacies. Since the sale of the whole pharmacy section of the Co-op due to the grand shagging up of its banking business, it's now owned by Bestway.
The current Post Office, The Enterprise Centre, Blast Road. After the closure of the old Post Office at Kirkham House (q.v.), there was a gap of about nine months while a new facility was set up. In contrast to Kirkham House, which sold other things, this is just a Post Office counter.
Shops - Defunct
Peters', junction of High Street and Gwalia Road. I don't remember much about this shop except its frontage (large glass window sort of thing). I think it was a 'sweets and fags' type of place. Closed sometime around 1970, and the row of buildings it was on was demolished a few years later, as was...
...Hewitt's, junction of High Street and Blast Road. I have only dim memories of this one; that is to say, the only time I remember being in it (aged about five), it was as gloomy as hell in there. Closed in the late 60s.
'The Paper Shop', 12 High Street. When I first remembered it, it was run by the Cowell family. In about 1971, it passed into the hands of Bert Evans from Bwlchgwyn. Upon his retirement, it was bought by Frank and Pat Roach, and was last owned by Harry and Pat Gough. Closed in about 1992, and is now solely a private dwelling.
The Co-op (pronounced 'Kwop'), High Street. This was a pretty large establishment, comprising a grocery, bakery, milliners, haberdashers, etc. It closed around about 1971, and the old frontage demolished. Now occupied by the Miners Arms pub (q.v.)
'Bottom Kwop' (sorry, Co-op), High Street. The hardware section of the Co-op up the road. Closed when the rest of the Co-op did, but briefly re-opened as a hardware store by Frank Roach in the 80s. Now just a private house.
Pryce Davies' (Gwalia Stores), High Street. A small general store. Once suffered a small but entertaining conflagration caused by an overheating freezer. Closed in the late 70s, since demolished and replaced by three small houses.
The Post Office, Kirkham House, High Street. Run by Fred Jones until his retirement in the early 80s, then by Bernard Winstanley until his retirement in May 2013 (see here). Replaced by a counter service at The Enterprise Centre (see 3. above).
Bloor's Stores, Penygraig Road. Run by Edward Bloor and then after his retirement by his daughter Eileen. For many years part of the VG chain. Closed in about 1999, and demolished a few years later.
Griffiths' butcher's shop, Ael Y Bryn. Housed, somewhat oddly, in a wooden shed. Closed in the early 70s and taken down. Parking space for the primary school (and for the now-demolished Community Centre) now occupies the site and the land to the east of it.
Parry's the butcher, Harwd Road. Seen here after its closure sometime around 1980. Now demolished.
Vera's, Harwd Road. A general grocery store. Seen here after its closure in the early 90s. Now just a private dwelling, but the pattern of windows gives the game away about what used to be there. Vera originally had premises further north, at the junction of Harwd Road and Railway Road, but moved to this location after the closure of Copperthwaite's toy shop.
Norman Sims' newsagents, Coedyfelin Road. Nothing more than a lean-to on the end of a house. Closed in the early seventies with no visible evidence of its existence remaining.
Colenso's, Railway Road. Another sweets'n'cigs emporium, next to Grainger's garage. Closed in the early 70s and reverted to a private residence.
As you can see, up until the end of the 1960s, we were pretty well supplied with all the 'retail outlets' that we could reasonably need from day to day, with only the more specialised needs requiring a trip into Wrexham at all.
Pubs & Clubs - Extant
The George & Dragon, Ael Y Bryn. A Lees pub for the whole time I can remember it. NOTE: 'Lees' is the name of the brewery it's tied to, not a description of the product.
The Miners Arms, High Street. The original building was a quite narrow, slate-clad building abutting the Conservative Club (q.v.), but when the Co-op was closed, the original frontage of that was pulled down, a new frontage established a little bit further back from the road, and the pub then moved sideways a few yards, with the old bakery becoming a function room. The old Miners Arms was then demolished to create parking space for the new one. Once an Ind Coope pub, later Ansells.
The Conservative Club, High Street. My A-level history tutor Eric 'Earnie' Earnshaw used to boggle that a place as working class as Brymbo should have a Conservative Club in it and, at first sight, it would appear to be as incongruous as an Orange Lodge in Gdańsk. However, the 'Con Club' was also for many years a feature of a lot of mining villages down south, so it's perhaps not as peculiar as all that. The current building sits on top and forward of the previous structure.
The Railway Tavern, Railway Road. So named as it used to sit in the space between the Wrexham-Minera and Wrexham-Mold railway lines. Formerly tied to Border Breweries, then to Banks, now a Free House.
Y Tai, Railway Road. Originally known as 'Y Tai' ('The Houses'), but re-named The Black Lion by its one-time owners Burtonwood. Now owned by Marstons, it reverted to its proper name some years ago.
Pubs & Clubs - Defunct
The Royal British Legion, Brynyffynnon. The first Legion I remember was a three-storey building on High Street (opposite Gwalia Stores), but at the end of the 60s it moved to a new purpose-built home at the bottom of Penygraig Hill. Closed in the early 90s, then demolished. Now the location of Poppy Fields.
The Furnace, Railway Road. Another Border pub, just like the Railway which stood diagonally opposite from it beside the Wrexham-Minera railway. Closed in the early 80s, and now a private residence.
Mount Hotel, Mount Hill. Yet another Border establishment, at least until our local brewer was closed down by Marstons in the mid-80s. Closed shortly after the Steelworks did, later demolished and redeveloped for housing.
The Prince Of Wales, Coedyfelin Road. Actually, I have to admit that I don't remember the pub here still being open, but it was still being referred to by that name when I was a boy (and us oldsters still refer to it as such). You can still tell that it used to be a pub, however, by the square porch on the front of the house.
As with some of the shops, the death-knell for these places came from the closure of the Steelworks twenty-five years ago, but the decline had in reality set in a long time before.
Churches & Chapels - Extant
English Methodist Chapel, High Street. The only one of all the chapels once operating here still to be holding regular services, and is also the home to the weekly Luncheon Club for elderly residents. Originally built for the Wesleyans in 1921.
St. Mary's Church, Vicarage Road (Church in Wales). The parish church, built in 1872, and also the site of the village cemetery.
Churches & Chapels - Defunct
Saron Baptist Schoolroom, Brymbo Road, Penrhos. Opened in 1899, closed sometime in the middle of the last century. Used for keeping chickens in for many years, now derelict.
Engedi (Welsh Calvinist Methodist), High Street. Originally built in 1820 and later extended and rebuilt, the current building dates from 1895. It finally closed sometime in the late 1980s and has fallen into near-dereliction since.
English Congregational Church, Harwd Road. Built in 1905, it remained open until the late 70s, when mining subsidence added to dwindling attendance forced its closure.
Tabernacl (Baptists), junction of High Street and Railway Road. Built in 1864, it closed sometime in the 80s and was converted into flats known as Valley View.
St. John's, Railway Road (Church in Wales). The original church on this site dated from 1837, but mining subsidence caused its closure some thirty years later. A second church was built on the same site (there's nothing like faith, is there?) and remained in use until the early 70s, when the same fate befell it, and it was demolished shortly after. The land now consists of a memorial garden and the war memorial itself, which previously stood at the junction of Railway Road and High Street.
Bethel (Welsh Wesleyan), junction of Railway Road and Station Road. The original chapel was built in 1837, but was replaced with a larger building in 1864. This remained in use until the early 70s when loss of membership meant closure and the sale of the land to the Steelworks. The Steelworks, although no doubt providing the bulk of the chapel's membership down the ages, was not always a friend to the cause; the chapel stood at the bottom of the ash tips from the melting shop situated above it, and hot clinkers through the roof were not entirely unknown. The chapel was demolished shortly after its closure, and only parts of the wall of the front yard can be seen today. A good idea of what it looked like can be had from this very fine photograph of Brymbo East crossing, dating from about the late 50s.
The reasons for the decline here are pretty obvious, with the decline in the social necessity to be seen to belong either to a church or a chapel along with a general secularisation of society.
As you can by now see, an awful lot has changed here in the last fifty years. So how is it that a village which could support so many shops, pubs and what-'ave-yew when there were fewer people living here and incomes were not as high, relatively speaking, has not been able to do so since?
Well, in our case, there is one obvious answer. Many of these businesses depended to a large extent on the people working in the Steelworks. This is particularly true of the various enterprises which clustered around the entrance to the works. Once the number of people working there started to be cut and once a larger proportion of the remaining workforce no longer lived in the village, the margins upon which these businesses had been operating got tighter to the point of outright strangulation, and so they closed. Once the Steelworks closed altogether, the few remaining - The Paper Shop on High Street and the Mount Hotel in particular - no longer had the passing trade from people going on and off shift, and so the whole thing became futile.
But a lot of these shops had gone before then, by the early 80s at the latest. So what other reasons could there have been?
Well for one thing, wider ownership of cars. I can remember that, when I was a boy of pre-teen age, Ffordd Owain - a road of 32 houses - probably only had half a dozen or so households with cars, and that was a pretty typical proportion for the whole of the estate (the private houses further down the village may have had a higher percentage). And so, travelling into Wrexham to shop was a more feasible proposition than it had been before. Yes, of course, we had buses; we'd had them since the early years of the century, which is why the train service into town had been removed in 1931. But shlepping a family-load of shopping around the various town centre emporia and then to the bus, and then from the bus stop to your front door was not an attractive proposition.
The other factor was the coming of the supermarkets. We had had a Fine Fare in Wrexham, and I remember the first Tesco opening at the bottom of Lord Street. But it was the arrival of Kwik Save on Chester Street and - particularly - that of Asda at Eagles Meadow in about 1974 which really started to change the game. Especially as Asda had had the foresight to offer a free bus service from Brymbo to its store every Thursday. Of course, the prospect appalled the old shopkeepers like Edward Bloor, who went so far as to stand by his shop door ritually cursing (with all the appropriate gestures) the bus and its passengers as it went past. Similarly, however, the new service appealed to the public at large, who saw that they could get to town, do most of their shopping in one place (and frequently cheaper, due to those economies of scale I referred to in Part 1), and then get the bus back almost to their front gate.
Ease of transport is generally deemed to be A Good Thing, and I suppose it is. The problem with it, however, is similar to the problems arising from many another scientific and technological development; the developments themselves may be utterly benign, but the uses to which they tend to be put can be destructive of the wider good. The downsides are not often immediately apparent however, except to a few more clear-sighted people who are therefore easily dismissed by those who have the dominant voices in our society - governments (state and local) and commercial lobbies prominent amongst them - as cranks and Luddites. The problems which I've described in these two screeds are not ones which couldn't be foreseen, therefore; that the stripping out not only of the commercial viability of our villages but also of our town centres would lead to the skeletal nature of both did not need a genius to prophesy.
Take that old favourite 'consumer choice', for instance. The solution to so many of our problems of being ripped off by those with an actual or virtual captive market, or so we have been led to believe. The trouble with that is that, in the first flush of its operation, all seems to be well and the 'discipline' of market forces appear (I said appear, mind) to be operating in the interest of the citizen-consumer. But those who run the whole shebang always play the long game and, in the long term, the consumer all too often finds that there is no meaningful choice anymore, as any genuine alternatives have been pushed into oblivion by the sharp wits and sharper elbows of the big corporations. And so, we are left with what those corporations, the Kingfishers and the Walmarts, see fit to offer us. It's another variant on the Shoe Event Horizon to which I referred in Part 1; if people are told that 'convenience' is the thing, and to do all your shopping with one company is 'smart', then enough of them will believe it to create the circumstances which I've just described. By which time, of course, it is too late. Joni was right, you don't know what you've got till it's gone, and although what went before was no paradise, the parking lot has duly been laid down and there's no going back from there.
And thus does the diversity of our society ebb slowly but inexorably away.
And that's a huge shame, at least from a cultural and social point of view. After all, in your village shop, your village pub, yea even your village church or chapel, you could have regular conversations with people who weren't necessarily your close neighbours, but who were part of a meaningful shared experience, and with whom you came into contact with every day, or every other day, or at least every Sunday. Contrast with today, where many people don't even know who their neighbours are, let alone having any worthwhile communication with them (apart, perhaps, from banging on the wall to protest at another kind of banging altogether coming from the other side of it). You don't get that in Tesco, do you?
So many of the shops I've listed above as having had the mercantile equivalent of the Lutine Bell rung for them hold particular memories for me, and I'd like to end by sharing a few of them. They'll be meaningless to most, but what the hell; I won't always be here to tell them, will I?
Sooty's: when I was in junior school, I used to go home for lunch, and calling in to Sooty's for, say, a Monster Bar or a tube of Smarties was a nice little treat to carry me into the afternoon at my desk.
The Chemist: always a smell of cough sweets there.
The Paper Shop: a cornucopia of memories here. The most particular concern the school summer holidays. My old man worked what was known as 'days regular', that is, he didn't work shifts but instead would work from about 7am to 3pm every working day. I'd be waiting for him to come off shift and out of the High Street gate of the Steelworks. Then we would go together to Bert Evans' (as it was by then) so that he could get his Daily Mirror and his Embassy Gold, and I could get a Milky Way or Mars Bar. This was much to the annoyance of my mother, who would be getting our tea ready and didn't approve of my having my appetite spoiled - not that it ever was, of course.
The 'Kwop': I swear it was merely precocious scientific enquiry which led me, at the age of three, to pull one of the bottom cans out of one of those pyramids they used to have. My mother never took me back there again, as I recall.
The old Post Office, Kirkham House: a rather gloomy place, but enlivened by the sight of those jars of sweets lining the shelves behind the counter.
Griffiths' butcher's shop. Not the shop itself, but that stuck beside it for years was the rusting hulk of an old car (either a Ford Eight or a Morris, if memory serves). I think it was still there when the hut was pulled down.
Bloor's Stores: and here's where most of my shop memories come from. This was where my mother always shopped - popping in nearly every day for this and that - so I knew this place well from my earliest days. I remember the slide-back-topped fridge opposite the main counter where the treasure trove of ice lollies could be found: Zoom, Fab, Fruity Blue (which turned your tongue the colour of a Chow dog's), and those little flat plastic tubes of frozen fruit juices (I can't for the life of me recall their name now), and where you had to be careful in reaching for them lest you overbalanced and ended up head first amongst the merchandise. And the chocolate bars! Dairy Milk, Bournville, Old Jamaica. Penny Arrows (the cheeky manufacturers kept the same price after decimalisation, so that you were paying twice as much for the same thing)! And a particular memory of sitting at the age of four on (I think) Eileen Bloor's knee and her letting me operate the snazzy new electric (electric, note, not electronic) till, and the hilarity when I told an old lady that, if she wanted her 4d change, she'd have to come to my house for it.
Ah, me! Oł sont les magasins d'antan?