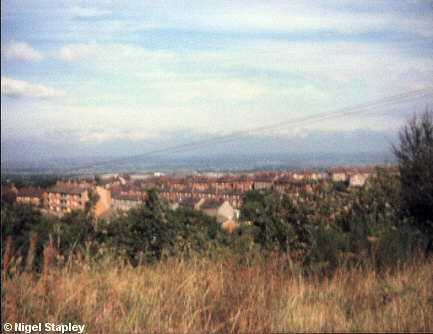 Grid reference: SJ288535
Co-ordinates: 328875, 353580
Bearing: NE
The building of the Penygraig housing estate had begun in the 1920s on what had previously been farmland and old coal-mines. Gradually the whole area was filled up, reaching its current size in the mid-1970s.
This is a view of part of the estate taken in the mid-1980s from Mount Pleasant. You can also get some idea of the fantastic views across the Cheshire Plain which are one of the true joys of living here.
Click on one of the thumbnails below for more detail about parts of Penygraig:
Penygraig Road


Argoed


Ffordd Owain &
Min Y Graig Avenue

Offa Street


Dyke Street
















Brynyffynnon


Edwards Avenue




Davies Avenue


Cheshire View &
Mountain View















©Nigel Stapley