Grid reference: SJ291538
Co-ordinates: 329112, 353867
Bearing: S
Edwards Avenue was one of the last parts of the Penygraig estate to go up.
Who it was named after, I can't tell you; any more than I know exactly which Davies the neighbouring avenue was named after.
This is the view south from where it joins the upper part of Dyke Street.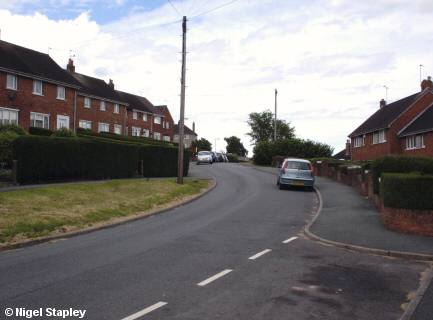 Grid reference: SJ291537
Co-ordinates: 329119, 353797
Bearing: N
The view back towards Dyke Street from in front of Morse House.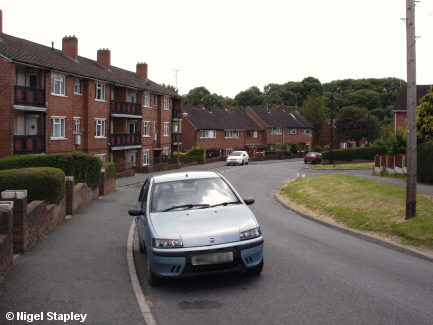 Grid reference: SJ291538
Co-ordinates: 329111, 353821
Bearing: S
Morse House (on the left; and no, I don't know who the hell that particular Morse was either) was the first block of flats to go up anywhere in the village. That's why for years it was simply known to us as 'The Flats' (we are a logical people, on the whole).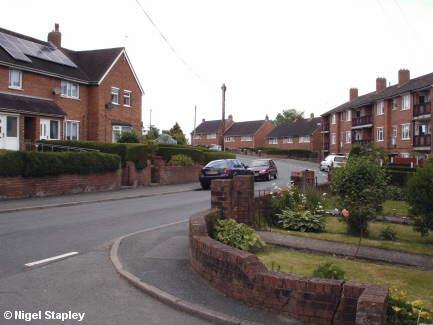 Grid reference: SJ290537
Co-ordinates: 329083, 353718
Bearing: N
Morse House and the junction with Davies Avenue from the top of the path which leads across to Penygraig Road.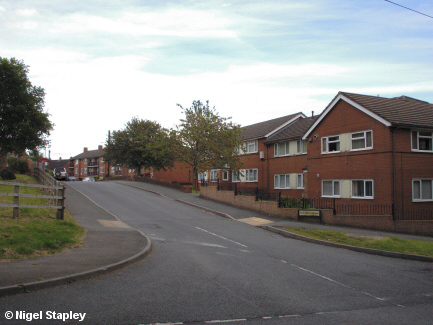 Grid reference: SJ290536
Co-ordinates: 329025, 353680
Bearing: NW
For quite a few years, Edwards Avenue didn't really go anywhere at its southern end. After the last houses (seen behind the trees in the center of this shot), the road petered out into nothing much more than a rutted, uneven track which led between two low banks of old colliery spoil (one of which can be seen on this photograph, centre left).
The bank on the eastern side of the track (on the right in this picture), which was used as a play-cum-dumping ground (*), was finally levelled in the early 1970s and these flats built on it. At the same time, a proper road was finally laid to link up with Pool Road and the wider world beyond. The bank on the left-hand side was landscaped some years later.
(*) I just know that that is going to cause fun for search engines.
©Nigel Stapley