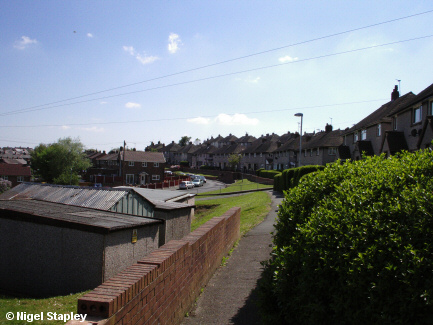 Grid reference: SJ290541
Co-ordinates: 329087, 354194
Bearing: S
Dyke Street (named - in case you were wondering - after Offa's Dyke which crosses the top of the ridge to the west) marked another transition in the development of the Penygraig Estate.
The houses on the left-hand side of this picture went up at the same time as those of Offa Street (there's a theme in these names, boys and girls; can you guess what it is?), and are of similar style and configuration to them. However, the houses on the right-hand side didn't go up until the 1950s when the last phase of the estate - including Cheshire View and Mountain View - was built (the road leading down from Mountain View can be seen crossing the middle of this picture).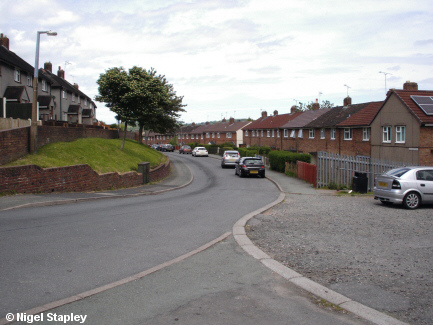 Grid reference: SJ291538
Co-ordinates: 329139, 353898
Bearing: N
Dyke Street from the southern end, near the top of the path leading down to Offa Street.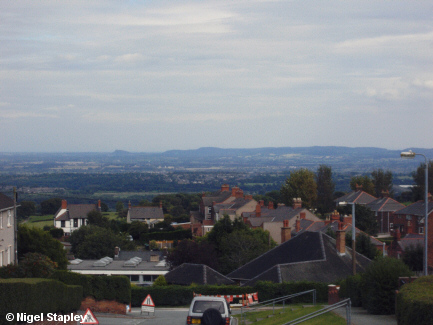 Grid reference: SJ290538
Co-ordinates: 329005,353875
Bearing: E
I have to keep coming back to the spectacular views we enjoy up here.
This is our old friend the Cheshire Plain, as seen from the point where Dyke Street meets the appropriately named Cheshire View and the more prosaically named Davies Avenue.
Penygraig Road (the other end of it from the end I live at) can be seen end-on on the right.
The flat-roofed building lower left houses the doctors' surgery, and used to house the village's library until it fell victim to the local Council's warped priorities in April 2014.
©Nigel Stapley